Electrodynamic vibration systems
Looking for the ultimate electrodynamic vibration solution? Look no further. We combine the high quality of a TIRA vibration system with the advanced technology of the Spectral Dynamics controller.
TIRA GmbH has been a global leader in the design and manufacturing of world-class electrodynamic (ED) vibration systems. Since 1965, the company has been manufacturing ED systems for a wide variety of applications within every industrial market. TIRA's systems are varied in size and capability from 9N to 300kN and designed to meet or exceed the high demands of our customers and the industry.
In an effort to provide the best solution to the European market, Spectral Dynamics and TIRA are partnering together. The Spectral Dynamics controller solutions and the TIRA vibration systems, give the customer the value, quality and long-term reliability that they demand. As we are factory trained and qualified, our service and support teams within Europe are always there to support your vibration system.
Contact us for more information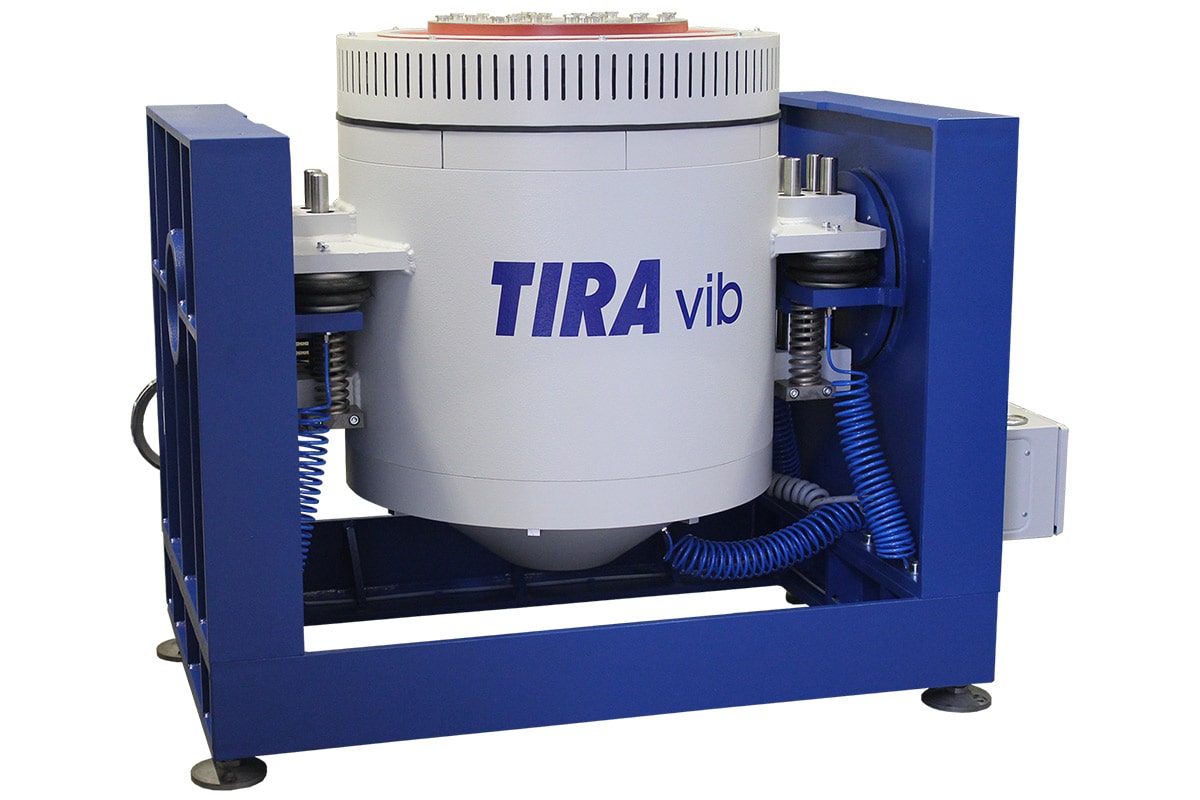 TIRA GmbH (TIRA) is located in the town of Schalkau between Leipzig and Nuremberg in Germany. As a global electrodynamic (ED) vibration test system provider, the company has been designing and manufacturing ED solutions since 1965. The installed base, as well as their technical support, extends into almost all of Europe, Asia, Russia, North and South America. TIRA's extensive global network of partners are well suited to meet all your vibration system needs no matter where you are located in the world.
TIRA possesses full manufacturing capabilities within their Schalkau facility. Their ability to weld, machine and assemble full systems and accessories ensure that they are able to control not only the high product quality but the consistency and reliability that customers have grown accustomed to over the past decades. These capabilities possessed by TIRA, clearly separate them from the competition and clearly assist in enhancing their reputation as a leading ED solution provider in Europe as well as the rest of the world.
As the demands of our customers and the industry change rapidly, TIRA works continuously to provide not only standard vibration solutions as well new and cutting-edge vibration systems. Our integrated team of manufacturing and engineering allows us to explore the best solutions in materials, fabrication techniques, system modeling and control integration technology when the solution you seek is outside the standard range of ever-expanding product offerings.
TIRA Shaker Systems
Our lower force systems are air-cooled until the 70kN force range is reached. Water-cooled systems will start from 55kN and can reach the 300kN force level.
Moreover, TIRA is well equipped to provide specific electrodynamic shakers for a wide variety of applications:
Calibrations systems are design to have a wider frequency range and less transversal movement to give the best solution for sensor calibrations
Modal shakers have an enhanced guiding and a specific moving coil design with only one insert to allow rod connection for superior modal testing
Inertial shakers are equipped with high stiff suspension systems to excite structures with the shaker independent of the axis being excited
Long stroke electrodynamic systems are able to reach a displacement of 100mm peak to peak for low frequency and high G force application levels
We integrate high quality, low distortion digital power amplifiers and cooling systems with the shaker systems delivering you the maximum performance you demand. Our ability to configure horizontal slip tables, a wide variety of head expanders and a complete controller solution allow you a single, reliable and trusted source for your vibration solution.
Slip tables and Head expanders
TIRA manufactures high quality slip table systems which can range in size from 300x300mm to 2000x2000mm. Slip tables are useful for performing vibrations successively in the 3-axis dimensions of x, y & z without changing orientation or having to provide complex and expensive fixturing for the specimen being tested.
When you have a requirement to adapt to an existing electrodynamic vertical shaker, we can propose our mini-base slip table solution. When you need a complete shaker system, we do recommend our mono-base, or combination shaker system. This solution integrates the vertical shaker and the horizontal slip table in a single, massive and rigid frame design avoiding any alignment issues. Our combination systems are also designed to reduce the switch over time from vertical to horizontal to typically 15 minutes or less.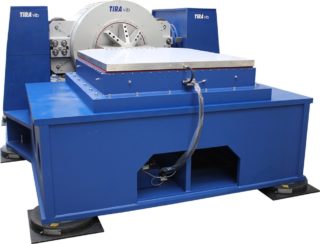 Two main types of horizontal slip table systems are available:
Oil film slip tables, also called low pressure slip tables, are constructed with a granite surface top in which a magnesium plate is interfaced while maintaining a low-pressure oil film in between the two assemblies. The lateral movement on this system is constricted by a guiding roller bearing system on the sides of the magnesium plate. This solution is perfect for low mass and small dimensional test specimens.
Hydrostatically guided slip tables, also called high pressure slip tables, operate in a similar manner with the granite surface and the magnesium plate. Hydrostatic bearing assemblies are then integrated into the design to allow for test specimens of higher mass. This solution allows much higher moment values and is preferred for testing more massive and higher dimensional specimens. With this slip table design, the size of the table, specimen dimensions and mass and test specifications are all taken into consideration in the design to adequately position and account for the number of hydrostatic bearings required.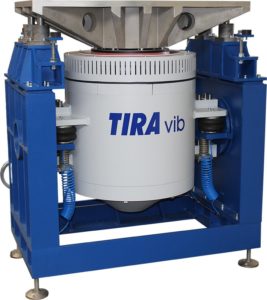 As TIRA manufactures and designs a complete array of head expanders, we will also be able to specify a system which will take into consideration if additional guidance and load compensation should be integrated for your specific solution.
As you may also have a requirement to perform vibration tests in combination with climatic profiles, TIRA GmbH will propose different types of thermal barriers and temperature control options to suit a variety of applications.
Your sales consultant will be better able to access your needs and recommend a solution which is right for you. Our highly skilled engineering staff will also be able to provide you a complete solution as to the recommended cooling, structural and guidance based upon your specific requirements.
Energy Efficient Power Amplifiers
TIRA digital power amplifiers are particularly designed to afford you the desired force and maximize velocity while running a shock profile. Our designs have inherent safety features built into every system to ensure the desired output levels are monitored at all times and avoid any damage to the shaker or amplifier while operating.
Our power amplifiers, ranging from 11 to 240 KVA, are equipped with intuitive touch screens providing the ultimate in information and control for the user. If a remote-control option is selected, this same touch screen can be duplicated in a control room at distance from the amplifier.
In order to reach and maintain the demanded performance level, electrodynamic systems require a significant amount of energy. In order to limit power consumption while delivering the required power optimally, TIRA incorporates the latest technology available on the market while employing their Energy Management System feature. This technology includes a field power reduction feature as well as a temperature monitoring to lessen the heat impact on the electronics while keeping the system cool during operation.
We also can interface a TIRA amplifier to replace amplifiers from other shaker systems. We can interface it to an older TIRA system or a system not manufactured by TIRA. When these opportunities arise, please feel free to discuss your options with any of our sales team. Surely, we can find a solution for you.
TIRA's services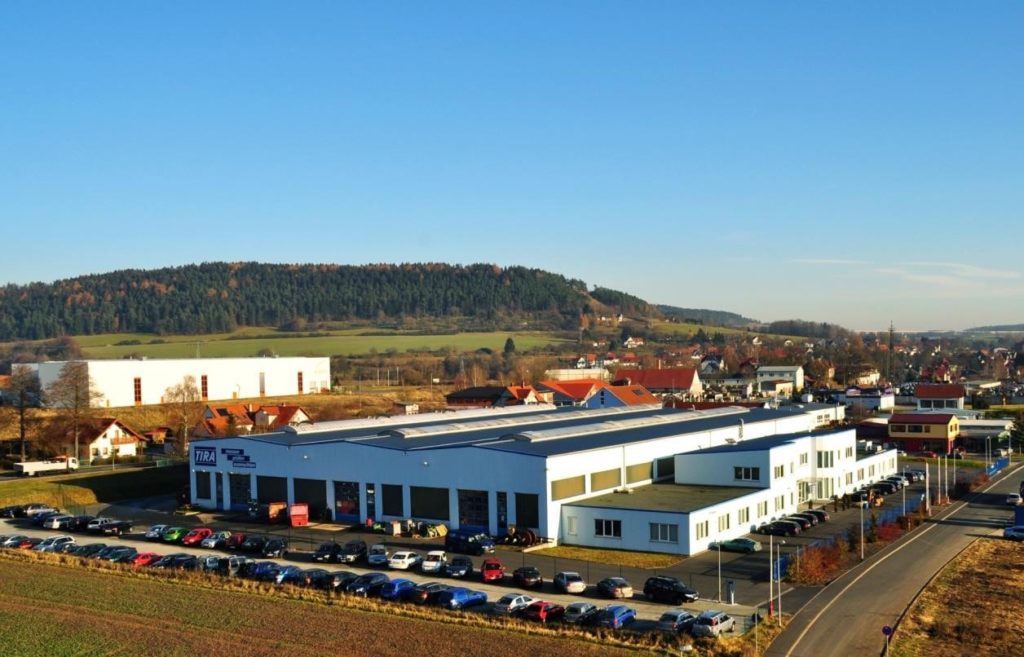 Service technicians are specifically trained and qualified by the factory. Many of them have spent time manufacturing our systems before being located to the field. This creates a strong link between design, production and customer service. This all leads to the enhanced serviceability of our products as well as a better customer service experience.
Acceptance testing is performed on all the products as a final requirement. When performing acceptance testing on a larger force system, it is not uncommon for the end-user to be involved in the testing at the facility in Schalkau (Germany). In the event the customer is not present for this final factory testing, the data will always be made available to them electronically.